Valentine Davies
Miracle On 34th Street
Full name: Valentine Davies
DOB: August 25th 1905
DOD: July 23rd 1961
Where born: New York, USA
Valentine Davies wrote the story, George Seaton wrote the screenplay and the 1947 version of Miracle on 34th Street became the famous Christmas movie that is still loved to this very day.
That the film was based in New York City should not come as a surprise as Valentine was born there in the summer of 1905. He also has another link with Miracle on 34th Street as he turned the story into a short novel to coincide with the release of the movie.
That novel received commendations and he also received the Academy Award for the Best Original Screenplay. Incidentally, the novel Miracle on 34th Street is still available and makes a wonderful seasonal gift for children and adults alike.
Valentine Davies studied at the University of Michigan before going on to write several plays for Broadway. It was while he was at university that Valentine met George Seaton, the man with whom he was to collaborate in turning Miracle on 34th Street into a movie.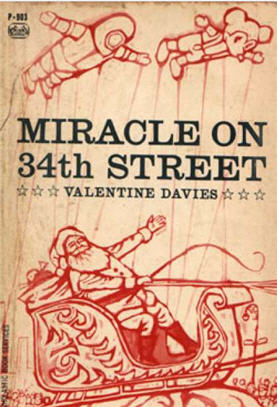 Valentine's involvement in movies developed in the 1940s. He wrote the story behind the 1942 movie Syncopation. In 1946 he co-wrote the screenplay for Three Little Girls in Blue. The 1949 movie It Happens Every Spring, saw Valentine contributing as both story and screenplay writer.
Valentine was associated with a multitude of movies during this period. Other than Miracle on 34th Street 1947 one of his most famous films is The Glenn Miller Story for which he wrote the screenplay in 1954. His association with Miracle on 34th Street was renewed in 1955 when it was shown on television as part of the 20th Century-Fox Hour series. And four years later the movie was aired on TV.
Valentine's involvement with television continued as he wrote for the General Electric Theatre series in the late 1950's. His work included The Trail to Christmas in 1957 and Auf Wiedersehen a year later.
Valentine returned to the world of movies as he wrote the story for the 1959 movie It started with a kiss. He also wrote the screenplay for Bachelor in Paradise which was released in the year of his death, 1961.
Valentine's talents were not limited to writing. Following the success of the Glenn Miller Story a year earlier, he produced the1956 bio-movie movie The Benny Goodman Story.
Related Articles