The Christmas Card
Produced by the Hallmark Channel The Christmas Card combines the shocking futility of war with the warmth and spirituality of Christmas.
Released in December 2006 the film was a ratings winner for Hallmark and has a justifiable claim to the one the best ever made for television Christmas movies.
The movie begins with US Army sergeant Cody Cullen (John Newton) receiving a Christmas card and letter written by Faith Spelman (Alice Evans) sent as part of a morale boosting campaign.
Keeping the card with him throughout his tour of duty in Afghanistan he decides to visit Faith's home town of Nevada City, California after he returns home following the death in action of one of his men.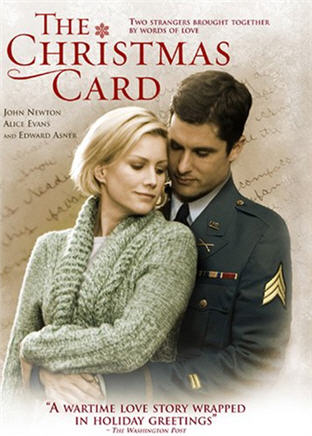 After an accidental meeting with Faith in the diner (they both have a love for crispy curly fries) and a visit to church Cody saves her father Luke Spelman (Lou Asher) from a collision with a speeding car.
Invited home for dinner Cody becomes invaluable to the Spellman's as he begin work in the family timber company. Discovering a bond with Luke (who fought in Vietnam), Cody confides in him about the Christmas card.
As the two men grow closer Luke begins to try and push Cody and daughter Faith together. But Faith, although obviously attracted to Cody, already has a fiancé - high-flying businessman Paul.
A surprise visit from Paul, who was supposed to be in Europe, isn't popular with the men of the Spelman family. But, jealous of Faith's friendship with the solider, Paul proposes to her. Cody then prepares to leave Nevada City, but not before leaving a surprise gift for Luke and a Christmas card of his own for Faith.
The Christmas Card movie was a big success for Hallmark and has already established itself as a perennial favourite at Xmas.
Related Articles