Jerome Cowan
Miracle On 34th Street
Co-starring Jerome Cowan Miracle on 34th street is one of the best Christmas movies of all time. Here is a biography of Jerome Cowan and his movie career.
Full Name: Jerome Palmer Cowan
DOB: October 6th 1897
DOD: January 24th 1972
Where born: New York, USA
Jerome Cowan, who played district attorney Thomas Mara in Miracle on 34th Street 1947 , was a renowned actor in cinema, on the stage and on television.
New York-born Jerome built up his reputation in over 100 movies, the most famous being the 1941 rendition The Maltese Falcon, and Miracle on 34th Street six years later.
Like many of his fellow actors Jerome learned his trade on the stage. Aged 18 he joined his first theatrical company, but his early acting career had to be put on hold because of World War One, during he which he joined the United States Navy.
Following his demobilisation Jerome became a success in his home city of New York in Vaudeville. By 1935 he was starring in the hit Broadway play Boys meets Girl.
This led to him coming to the notice of then film producer, and later studio executive Samuel Goldwyn who offered Jerome his first movie contract in the movie industry.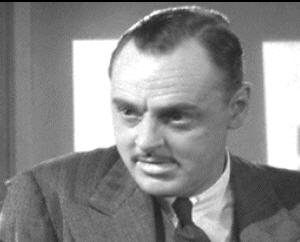 At the relatively late age of 39 he was to play his first part in a movie, Beloved Enemy released in 1936. Jerome Cowan also became involved in comedy, playing Mr Radcliffe in the Blondie series.
Prior to his appearance in Miracle on 34th Street Jerome had played the leading male romantic role in the 1942 movie Crime by Night and the 1943 offering Find the Blackmailer.
However, there was to be no romantic role for him in Miracle on 34th Street where he played the hapless Mara who attempted, without success, to have Judge Harper, played by Gene Lockhart to rule that Santa Claus does not exist.
Despite his successful career in movies, in 1950 Jerome made the decision to move into the fledgling TV service. He was the star of the 1951 series Not for Publication. He had also not turned his back on the theatre, treading the boards once again in My Three Angels on Broadway.
There were more comedy roles for Jerome Cowan as he appeared in the TV series Mr Smith goes to Washington in 1962. One of Jerome's last films before his death in 1971 was The Comic, released in 1969, and which starred Dick Van Dyke.
Related Articles